Hollister perfume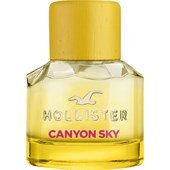 HollisterCanyon Sky Eau de Parfum Spray
€12.68
/ 30 ml
BP: €422.67* / 1000 ml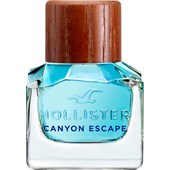 HollisterCanyon Escape Eau de Toilette Spray
€12.95
/ 30 ml
BP: €431.67* / 1000 ml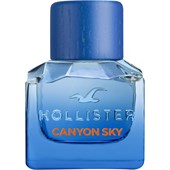 HollisterCanyon Sky Eau de Toilette Spray
€12.68
/ 30 ml
BP: €422.67* / 1000 ml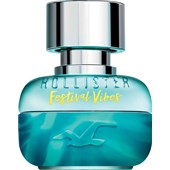 HollisterFestival Vibes Eau de Toilette Spray
€14.95
/ 30 ml
BP: €498.33* / 1000 ml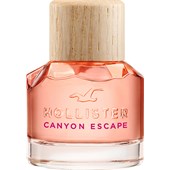 HollisterCanyon Escape Eau de Parfum Spray
€11.92
/ 30 ml
BP: €397.33* / 1000 ml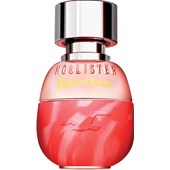 HollisterFestival Vibes Eau de Parfum Spray
€14.99
/ 30 ml
BP: €499.67* / 1000 ml
5/5 AggregateRating
Hollister perfume: fragrances that inspire a longing for the ocean
Inspired by the endless summers of sunny California, Hollister stands for a relaxed lifestyle. The label, which belongs to the American fashion company Abercrombie & Fitch, produces young, modern fashion in a surfer style. The stylish jeans, casual T-shirts and colourful bikinis enjoy cult status amongst young adults. Since 2001, the brands sells Hollister perfume, which features unexpected nuances to awake in you the desire to live life to the fullest.
Hollister perfume: Bring the endless summer home with you with the Eau de Parfum by Hollister
Hollister perfumes will make you long for a relaxing holiday by the sea. Summer, sun and surfing are all symbols of the Californian lifestyle. Care-free attitude, joy of life, limitless optimism and an urge for freedom are all just as much a part of it as the desire to be one with the elements and one with nature. Surfing is not just about you and the water. You can feel the power of the waves, you push your own limits and let your thoughts roam free. Hollister perfume embodies the spirit of the wave rider. At the same time, they are an expression of a ravenous hunger for travel, beauty and adventure.
All Hollister fragrances exude a lust for life and tell an exciting story. With the label's perfumes, you get to experience the Californian lifestyle up close and personal and choose a composition that underlines your personality:
Fruity, oriental Hollister fragrances are reminiscent of exciting summer evenings with friends or a romantic walk on the beach. The creations capture the lust for life and urge to experience limitless freedom.
With summery, fresh compositions, Hollister lets you enjoy that beach feeling all year round. They remind you of care-free days on the beach.
Citrusy, wooden fragrances by Hollister awaken a desire for adventure. They underline your confidence, your sensuality and your joy for life. Wooden notes give the fragrance a certain masculine charm and are reminiscent of a crackling camp fire.
Eau de Parfum by Hollister for her and him
Hollister perfume for women unites juicy fruit notes with warm, wooden nuances, aquatic essences and exotic blossoms. Classic Hollister fragrances are sweet and fruity and transport you to the beaches of California, filling the cold months with the feeling of endless summer. Popular compositions comprise starfruit, blackcurrant sorbet, quince and pink grapefruit combined with the floral accents of hibiscus, orchids and pink jasmine. Crowned by teak and sandalwood, amber and pale woods, they are reminiscent of an unforgettable sunset at the seaside.
On hot days, an elegant Eau de Parfum by Hollister revitalises you with essences from blood oranges, mandarins and cactus water. Mysterious aromas of iris, solar notes, desert rose and orange blossoms form the vibrant heart of the fragrance. Cedar wood, sandalwood and musk give it an elegant platform.
One particular Hollister perfume for men with blackcurrant, bamboo and pink grapefruit essences has a light yet masculine effect. Lavender, neroli and cypress form the heart of the fragrance. Musk, tonka bean and driftwood aroma give it its masculine note. Compositions comprising fresh mandarin, bergamot and apple have an oriental, mystical character. Refined with black pepper, ambroxan and ginger, they get a touch of mysterious spice. Tonka bean, sandalwood and musk add masculine accents.
Shop Hollister perfume: Californian lifestyle in a bottle
At parfumdreams, you will find a broad selection of Eau de Parfum and Eau de Toilette for women and men. Hollister perfumes exude the Californian attitude of a never-ending summer and indulge the senses with fragrance compositions ranging from fruity and fresh to oriental and mystical. They underline your positive personality that says yes to life. At the same time, they embody a longing for freedom and adventure.