Body care by Korres
The body care cosmetic products from the House of Korres originated in the oldest homeopathic chemis…
Learn more!
Body care Skin care by Korres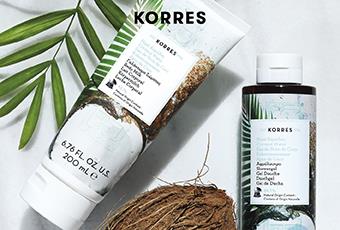 The body care cosmetic products from the House of Korres originated in the oldest homeopathic chemist shop in Athens. Active plant-based ingredients of the highest quality are used with clinically tested effectiveness to manufacture the tolerable care products. The addition of mineral oils, parabens, propylene glycol, silicon, ethanolamine and ammoniac is waived when compiling the formulas for the high-quality care and cleansing products. The skin-tolerable soaps, shower gels, peelings and lotions are equally suitable for the personal hygiene of women, men and children.
For the daily care of skin, body any hair - Korres Natural Products
The formulas of the high-quality body, face and hair products are based on experiences with more than 3000 herbs and herbal blends, which are demonstrably homeopathetically effective. The knowledge of this natural effectiveness has been passed down by Korres for generations. That's also why a large proportion of the body care and cosmetic products are allowed to bear the natural cosmetic seal. The waiver of various ingredients makes the natural care products of the cosmetic institute ideally suitable for the daily care of body, face and hair of all normal skin types.