Sun care Skin care by Korres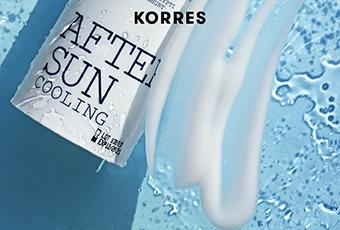 As soon as the warm time of the year is just round the corner, you should again make sure you have the right sun care products. The Greek noble brand Korres offers numerous different products for the care and protection of face, body, sensitive zones and hair. The cosmetics are broken down into products to be used before sunbathing and products to be used straight after sunbathing or a long day in the sun. For example, the nurturing After Sun comes in the form of a body milk with aloe vera or as an easy to apply gel.
Care against too strong UV rays
In its own sun care products Korres uses various active agents and strengths. The diverse cosmetic spectrum ranges from a light UV protection of 20 (for dark and pre-tanned skin types) to the high UV protection of 50 suitable for light-skinned people. Care products for efficient hair protection are also available. Although hair cannot suffer from sunburn, it can discolour or dry out as a result of intensive solar radiation. All products should be used according to the instructions for use and regularly refreshed.