Spezie by Lorenzo Villoresi
The Lorenzo Villoresi line of men's fragrances delight perfume connoisseurs with several masterly co…
Learn more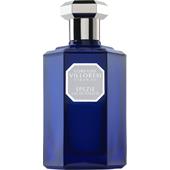 Lorenzo VilloresiSpezie Eau de Toilette Spray
BP: €120.00* / 100 ml
Spezie Men's fragrances by Lorenzo Villoresi
The Lorenzo Villoresi line of men's fragrances delight perfume connoisseurs with several masterly compositions by star perfumer Lorenzo Villoresi. His nose is responsible for the fact that excellent fragrance creations have been produced since 1990 in an old Florentine palazzo from the 15th century. And all without his own laboratory, high-tech equipment of other modern tools. Lorenzo Villoresi finds the inspiration for his exclusive fragrance notes in his many perfume-research trips to the Orient and from a longer stay on the famous Silk Road. His creativity and his extraordinary skills have been commended by many prominent customers for many years. It is no wonder, then, that Queen Elizabeth is one of Lorenzo Villoresi's regular customers. The creates unisex fragrances as well as women's and men's fragrances for his exclusive clients.
Spezie - like the scent of a Tuscan garden


Spezie, which launched in 1994, is an exclusive perfume for the stylish man. The fragrance is particularly aromatic and reminds one a little of the fresh and tangy aromas of a herb garden in Tuscany. The fascinating perfume enchants with a skillful combination of fresh herbs and spices. At the beginning, the unusual combination brings an exclusive top note of coriander, cardamom, bay leaf, green notes, cypress, eucalyptus and mint. The middle note also impresses with many exotic spices such as cinnamon, clove, pepper, ginger, pine, oregano and thyme. The base note represents a finale combining tomato leaves, sage, heliotrope and oak moss. If you love exclusive men's fragrances, Spezie by Lorenzo Villoresi is definitely the right choice.