Iperborea by Lorenzo Villoresi
The Lorenzo Villoresi unisex fragrance line comprises high-quality fragrance creations which are ver…
Learn more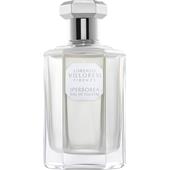 Lorenzo VilloresiIperborea Eau de Toilette Spray
BP: €120.00* / 100 ml
Iperborea Unisex fragrances by Lorenzo Villoresi
The Lorenzo Villoresi unisex fragrance line comprises high-quality fragrance creations which are very representative of the exclusive haute parfumerie. Italian perfumer Lorenzo Villoresi had the nose for these extraordinary creations, which are individually manufactured in a Florentine palazzo according to traditional methods of craftmanship without even a private laboratory. Villoresi finds his fascinating inspiration from his many perfume-study tours of the Orient and from the famous Silk Road. He has been presenting his elegant and extravagant creations to a wide and varied public since 1990. Among these clients are prominent persons such as Queen Elisabeth and the musician Sting. Everyone loves the creative art of this Italian star perfumer, whose creations are produced with a very distinctive signature.
Iperborea - spring arrives


Many perfume connoisseurs particularly love the unisex fragrances by Lorenzo Villoresi. Iperborea, launched in 2010, also belongs to this category. This perfume has a floral, fresh scent that reminds of the first rays of sunshine in spring. The fruity, floral top note delights from the beginning with blossoming calyx, lily-of-the-valley, cyclamen, spring green notes, and nuances of citrus fruits, oranges and mandarines, with a fruity touch of peach. The middle note also impresses with white spring flowers: magnolia, mimosa and lily-of-the-valley. And the composition is rounded off by a dominant base note of white flowers, jasmine and orange blossom with musk and exquisite woods. If you love exclusive unisex fragrances, you should definitely try Iperborea Lorenzo Villoresi. You will be delighted.