Piper Nigrum by Lorenzo Villoresi
The unisex perfume line by Lorenzo Villoresi stands for high-quality perfume creations, manufactured…
Learn more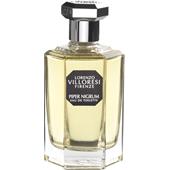 Lorenzo VilloresiPiper Nigrum Eau de Toilette Spray
BP: €120.00* / 100 ml
Piper Nigrum Unisex fragrances by Lorenzo Villoresi
The unisex perfume line by Lorenzo Villoresi stands for high-quality perfume creations, manufactured in the traditional manner by an Italian perfumer. His name is Lorenzo Villoresi, and he runs his successful perfume business in Florence. Lorenzo Villoresi values style and old craftmanship. In the spirit of this, perfume in a class of its own is manufactured in a Florentine palazzo from the 15th century in a completely traditional way. Amazingly, this is all done without a private laboratory and without the guidance of a market research or marketing department. Lorenzo Villoresi was born in 1956. After studying philosophy, he realised that his true calling lay in the creation of perfumes. He accumulated creativity and the necessary knowledge for the creation of his own perfume compositions during research trips to the Orient and the Silk Road. Finally, he set up on his own in 1990 in Florence, laying the foundation for the successful business we see today, which counts celebrities such as Queen Elizabeth, the Blairs or the musician Sting amongst its customers.
Piper Nigrum - an extravagant fragrance adventure


The exclusive unisex fragrances from Lorenzo Villoresi are especially fascinating. These have included Piper Nigrum since 1999. This is a fresh, seductive fragrance composed of various African spices, which reminds of an Oriental market somewhere around the Mediterranean. The top note immediately presents a fascinating combination of dill, aniseed, fennel, peppermint and citrus nuances. It then continues with an aromatic middle note of black pepper, oregano, nutmeg, elemi resin, frankincense, petitgrain, clove leaves and rosemary. The whole composition is rounded off with a magnificent base note of ambergris, styrax, benzoin, Peru balsam, myrrh and various woods. There are many unisex fragrances but only one Piper Nigrum.