Kamarusabhi by Lorenzo Villoresi
The Lorenzo Villoresi unisex fragrance line impresses perfume connoisseurs with excellent creations …
Learn more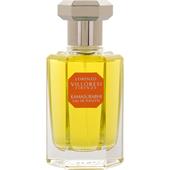 Lorenzo VilloresiKamarusabhi Eau de Toilette Spray
BP: €200.00* / 100 ml
Kamarusabhi Unisex fragrances by Lorenzo Villoresi
The Lorenzo Villoresi unisex fragrance line impresses perfume connoisseurs with excellent creations from the Italian star perfumer. The name Lorenzo Villoresi stands for a fine artisanal perfume tradition, which is carried out just as it always has been in an old Florentine palazzo dating from the 15th century. Lorenzo Villoresi has been producing his unisex perfumes since 1990, without a modern laboratory or any other technical innovations. His ideas and inspiration come from his many perfume study-trips to the Orient and from the famous Silk Road. Many prominent people count amongst his clients, including Queen Elisabeth and the musician Sting. His portfolio today comprises various fragrances and accessories, which have found fans all over the world.
Kamarusabhi - an Indian scent adventure


If you are looking for an especially oriental scent amongst the unisex fragrances from Lorenzo Villoresi, you'll have hit the jackpot with the exotic Kamarusabhi. This is a seductive and enchanting fragrance that reminds of the sensual scents of leather, amber and musk. A particularly floral top note enriches this unique composition with exotic blossoms, Arabian jasmine, roses and orange blossoms. This blends into a fascinating middle note of tuberose, ylang-ylang, narcissus and sandalwood. A base note created from a mixture of sandalwood, musk, amber, leather and patchouli forms the finale. If you enjoy exclusive unisex perfumes, you should definitely try the fine perfume Kamarusabhi by Lorenzo Villoresi. Allow yourself to be enchanted by this fragrance.