Superior Men by s.Oliver
Superior Men by s.Oliver is perfect for men who set high standards of themselves and their care. The…
Learn more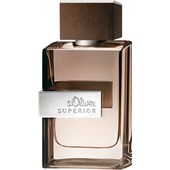 s.OliverSuperior Men Eau de Toilette Spray
€16.40
/ 30 ml
BP: €546.67* / 1000 ml
4,5/5 AggregateRating
Superior Men Men's fragrances by s.Oliver
Superior Men by s.Oliver is perfect for men who set high standards of themselves and their care. The fragrance range by s.Oliver was based on the Eau de Toilette Spray with the same name, which comes in an elegant brown with silver decorative elements. The Superior Men range involves a twin fragrance, which can be perfectly complemented with its direct, feminine counterpart, Superior Women. Like all men's fragrances from the brand, the Superior Men fragrance also has a raw, slightly spicy vein, which is however, immensely zesty and light.
Timeless fragrance with masculine character
The fragrance from the range is not only used in the perfume but also in different care products. For example, in the long lasting Deodorant Spray, which guarantees security for the whole day. At the same time Shower Gel and After Shave provide a pleasant scent on the skin that can also be given to a loved one in a combination with the matching gift sets. The s.Oliver fragrance creation use bergamot and grapefruit in the top note, vetiver and iris root in the heart and balsamic notes and cedar in the base.