Haircare and Toiletries of Batiste
The Batiste brand dry shampoos offer
uncomplicated haircare for refreshing the hair completely w… Learn more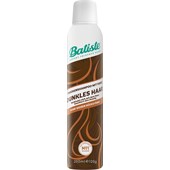 BatisteDry shampoo Dark – for dark brown hair
€2.99
/ 200 ml
BP: €14.95* / 1000 ml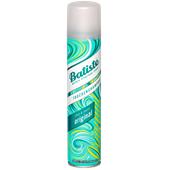 BatisteDry shampoo Original - Clean & Classic
€3.22
/ 200 ml
BP: €16.10* / 1000 ml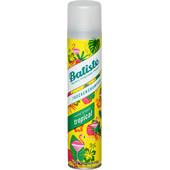 BatisteDry shampoo Tropical - Coconut & Exotic
€3.22
/ 200 ml
BP: €16.10* / 1000 ml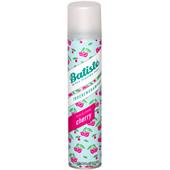 BatisteDry shampoo Cherry - Fruity & Cheeky
€3.22
/ 200 ml
BP: €16.10* / 1000 ml
5/5 AggregateRating
Batiste Haircare and Toiletries
The Batiste brand dry shampoos offer uncomplicated haircare for refreshing the hair completely with water. The tried and tested brand from the UK has been market leader since 2010 and is exported to countless countries. The product is simply sprayed on to the roots of the hair. It is then massaged in with the fingers. Thanks to a special active formula, excess hair grease is absorbed. After leaving the product to work for a short while, it is thoroughly brushed out from roots to tips. In an instant, the product provides for more freshness and more volume in the hair between washes. After using the dry shampoo, the hair can be styled as usual.
Dry shampoos with different scents and colour pigments


The hair care range comprises a wide range of products for different needs. Amongst the scented dry shampoos, Batiste Original is the classic. This provides a discreet fragrance that is suited to every occasion. The Blush variant has a floral scent. The fragrance is fresh cherries is released by the Cherry dry shampoo. Batiste Tropical will thrill with its exotic coconut scent. There are also the perfect hair products for various colours of hair. They accentuate the natural shade of the hair with a hint of colour. The Dark dry shampoo is suitable for dark brown to black hair. Medium has been developed for brunette hair and Light for blonde hair. The XXL Volume product provides lank, lifeless hair with more fullness and ensures a groomed appearance.