Colonia Leather Men's fragrances by Acqua di Parma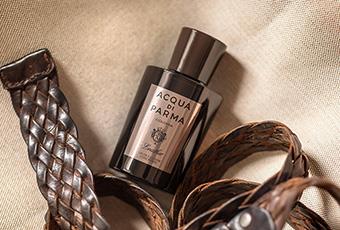 Acqua di Parma is considered to be an absolute quality brand, which is expertly proves again with its Colonia Leather Creation. The brand new fragrance from the year 2014 combines a very distinctive leather scentwith Italy's unique influences. The perfume is sold in a brown flask with a bronze imprint and a matching cap. The front panel bears the elegant imprint of the Acqua di Parma brand. The men's fragrance can be ordered in the 100ml option or in a very generous 180ml flask. Its brown appearance fits perfectly with the strong and very masculine scent chords, which can be felt especially in the heart and base notes.
Stylish men's fragrances from Italy
The Colonia Leather perfume makes a statement with its fresh and fruity scent, which is reminiscent of a beach holiday and fits perfectly with the summer. Lemon and orange build a strong framework around the delicate hints of raspberry, before the masculine scent merges into its full heart note. The heart note is a little more coarse, because it is a combination of red thyme and petitgrain and honeysuckle. To give the fragrance its distinctive character, the fragrance designers from Acqua di Parma use a small amount of rose, which gives the whole mixture a very clean and delicate effect.
Strong leather scent notes create a masculine fragrance
The base note of the Acqua di Parma Colonia leather perfume contains the essence, which gives the fragrance its name: Leather. Strong leather is combined with rock rose and the natural scents of guaiac wood and birch. This creates an exciting aroma in the background, which slowly moves to the foreground and is combined with the head and heart note in a playful and light way. The masculine basis of this creation is ideal for all men, who prefer coarse, spicy and strong fragrances on their skin.
Colonia Leather by Acqua di Parma