Colonia Oud Men's fragrances by Acqua di Parma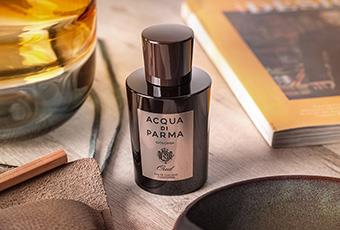 Acqua di Parma has been offering fragrances for ladies and gentlemen since 1916 and prepares perfumes and after shave lotions in many extraordinary scents. With Colonia Oud, the traditional Italian brand offers an alternative to the classic eau de cologne, which is appreciated by those who like a strong and masculine scent. Sold in a dark and elegant flask, Acqua di Parma places emphasis on the masculine character of the perfume, which invites you to apply it daily for all situations.
Make a price-conscious order for Colonia Oud and other men's fragrances
The Colonia Oud edition is among the flagships of men's fragrances from the traditional brand. For a neutral or fresh character, another perfume is offered for him and her in different varieties. With all articles and product lines, Acqua di Parma pays attention to the natural character of many ingredients and essences, and guarantees an elegant base for all fragrances for ladies and gentlemen. Our online shop helps you to purchase fragrances and other articles of the popular brand at reasonable prices. This product edition covers the full range of the contemporary men's skin care products, from after shave to shower gel.
Colonia Oud by Acqua di Parma