Rosa Nobile by Acqua di Parma
As delicate as a rose and as tender as a woman herself - the Rosa Nobile line by Acqua di Parma is a…
Learn more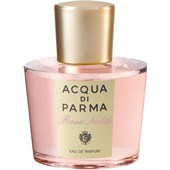 Acqua di ParmaRosa Nobile Eau de Parfum Spray
BP: €201.90* / 100 ml
Rosa Nobile Women's fragrances by Acqua di Parma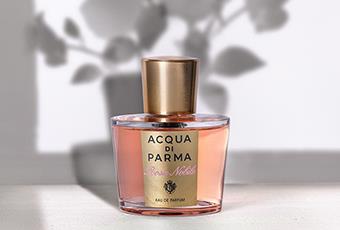 As delicate as a rose and as tender as a woman herself - the Rosa Nobile line by Acqua di Parma is an ode to unconditional femininity, which is expressed through various harmonious chords. The name alone gives an indication of what you can expect from the ladies' fragrance of the series: plenty of rose, a delicate composition and a lot of lightness, which fits very well with summer or spring. The line consists of the eau de parfum spray of the same name and a nurturing body cream, which comes in a beige container with a gold lid. Both products will win you over with their elegant and luxurious look.
Floral aroma with a smooth texture
The Rose Nobile ladies' fragrance (which you can receive as a sample size at any time) was released in 2014 as a summer fragrance by Acqua di Parma. Naturally, this collection also fits wonderfully with autumn and winter, because the floral bouquet, paired with the light texture, awakens memories of the warm season, a beautiful holiday or a romantic summer night with a warm temperature. The eau de parfum spray, which is available in sample sizes, comes in a pink flask with a gold inscription on the front and a sealing cap, which also comes in gold. This makes Rosa Nobile a guaranteed eye catcher in every bathroom and dressing room.
Irresistibly delicious fragrance by Acqua di Parma
On application, the ladies' perfume in the fragrance line stars with a very light hint of pepper, which is immediately sharpened by Calabrian bergamot and mandarin from Sicily. The scent feels fruity and lively at the start, and is then enhanced by violets, peonies, lilies of the valley and centifolia roses from Italy in the heart note. The floral bouquet is the heart of the fragrance, and can also be felt in the perfume sample. Amber, musk and cedar wood fill up the base note, and form a solid foundation.