Doctor BABOR by BABOR
The Body Cellular care series is part of the Doctor BABOR skincare range, which offers
special pr… Learn more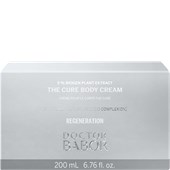 BABORDoctor BABORRepair CellularUltimate Forming Body Cream
BP: €399.75* / 1000 ml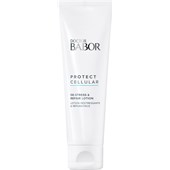 5/5 AggregateRating
Doctor BABOR Body care by BABOR
The Body Cellular care series is part of the Doctor BABOR skincare range, which offers special precision cosmetics as a synthesis of medicine and women's cosmetics. BABOR Professional has developed innovative high-performance formulas for the "Doctor BABOR" series and especially for the Body Cellular care product range. The body care products and cosmetics based on these formulas represent an intensive and fast-working effective care programme for the female problem zones.
Doctor Barbor Body Cellular - effective care for the female problem zones


The Doctor BABOR body care and cosmetics line is an innovative precision cosmetic series made in Germany, which, with the "Body Cellular" range, offers a fast and highly effective care programme for problem areas. With its highly-effective and highly-active ingredients, the care range offers precise solutions for problems such as cellulitis, tired legs and spider veins, and ingrown hairs or skin irritation due to hair removal. In addition, it is suitable for a regeneration of the skin on the body and for post-operative care.

So, for example, the "Ultimate 3D Cellulite Lotion" and the "Ultimate 3D Cellulite Fluid" offer effective and toning help against cellulitis. With the "Ultimate Lipofill Bust Lotion" for a beautifully-shaped bustline, the contours of the bust will be refined, the tissue structure will be improved and elasticity increased. The "Ultimate Cooling Leg Refiner" active cooling gel-cream uses purple dulse and the active ingredient Tetrapeptid-33 to support the elasticity of the blood vessels and prevents redness and the feeling of heavy tired legs. The "Body Cellular Ultimate Forming Body Cream" uses a biogenetic plant extract to ensure intensive skin renewal and thus is particularly suitable for post-operative care.

The other products of the Doctor BABOR series also represent effective and specific body care and cosmetics. These include the Intensive Calming Body Cream and the Shower Milk from the "Neuro Sensitiv Cellular" line, which uses the innovative active ingredient Neuroxyl to work against extremely dry and sensitive skin and also against its effects such as itching and redness.

The most common beauty problems and the discomfort associated with them can be treated effectively and specifically with the specialised body care precision cosmetics from Doctor BABOR.