Lait Corporel by Biotherm
Body Milk belongs to the
Body Milk Ritual
range by Biotherm. For this body care product, the …
Learn more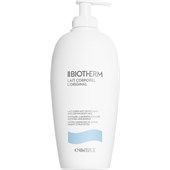 BiothermLait Corporel Anti-Drying Body Milk
€15.95
/ 400 ml
BP: €39.88* / 1000 ml
5/5 AggregateRating
Lait Corporel Body care by Biotherm
Body Milk belongs to the Body Milk Ritual range by Biotherm. For this body care product, the cosmetics brand relies on pure thermal plankton, the classic signature of all of its products. The formula is enhanced by ingredients such as orange essences, grapefruit essences and soya oil. This produces a high-quality formula that moisturises and protects the skin's elasticity.
Cosmetic for supple skin
The Body Milk in this range by Biotherm is complemented with additional products. For an even greater silky-soft feeling on your skin, use the Body Milk together with the rich Body Butter, Gentle Exfoliating Milk and Cleansing Shower Milk.