Oil Therapy by Biotherm
Our bodies don't just want to be looked after – they require intensive round-the-clock maintenance. …
Learn more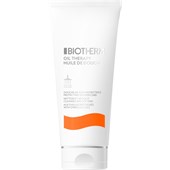 BiothermOil Therapy Protecting Shower Care
€17.95
/ 200 ml
BP: €89.75* / 1000 ml
5/5 AggregateRating
Oil Therapy Body care by Biotherm
Our bodies don't just want to be looked after – they require intensive round-the-clock maintenance. Natural brand Biotherm has developed products tailored to meet these requirements, bringing a whole new generation of cosmetics to the market with its Oil Therapy body care range.
Silky sheen and care beneath the surface of the skin
Cosmetics are about more than just daily body care. With its new Oil Therapy range, Biotherm has developed a line of products that moisturise the skin for hours on end and lend pores a new glow. Whether you use the Shower Oil or the Body Oil after bathing – the ingredients are carefully selected. Restore your suppleness and let dry skin be a thing of the past.