Hair dryer by BaByliss Pro
Babyliss, the cosmetic label of hairdressers, offers the optimal technique for
every use and ever… Learn more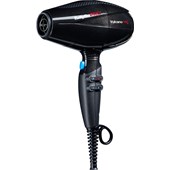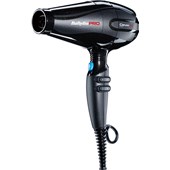 4,5/5 AggregateRating
Hair dryer Technical equipment by BaByliss Pro
Babyliss, the cosmetic label of hairdressers, offers the optimal technique for every use and every hair type. The assortment ranges from the light travel hair dryer via inexpensive models to superior professional hair dryers. Different output strengths and various different settings for temperature and speed guarantee you find your perfect hair dryer. The right model is available for all hair lengths, for all hair types, from straight via curly to frizzy, for fine and thick hair.
Babyliss - innovative cosmetic technology in the services of your beauty
The BAMBINO Hair Dryer recommends itself as a perfect travel companion, for example. It is so small and light that you can store it even in the ""small luggage"" with no problem at all. The small styling aid offers you a 1200 watt output and two temperature and speed settings.If you are looking for a cosmetic weapon against statically charged, flying hair, a hair dryer with ionic technology, such as the SL-IONIC TURMALIN, is the right choice. Thanks to its 1800 watt output and 6 speed and temperature levels, the compact model weighing just 420 g can also cope with longer hair and more sophisticated styling.Drying your hair is ultra-rapid with the Babyliss PRODIGIO AC MOTOR IONIC. With its gigantic airflow speed of 145 km/h, you can style even demanding and complicated looks at turbo speed.The Babyliss PRO LIGHT technology is coordinated to satisfy professional requirements. The hair dryer offers a 2100 watt output, is equipped with 2 speed levels and 3 temperature levels - which can be selected independently of each other - and a really cold level. Its long-lasting AC motor holds out for 1000 operating hours.With its 2400 watt output, the Babyliss Haartrockner CARUSO AC MOTOR IONIC offers you excellent efficiency with which you can control even difficult to control hair. Even demanding professionals are impressed by the technology of this light, 540 g model with 3 speed and 3 temperature settings in addition to a cold air button.