Summer Vanilla by Bettina Barty
Women's scents such as the perfume
Summer Vanilla
from the eponymous skincare range by Bettina…
Learn more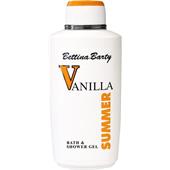 Bettina BartySummer Vanilla Bath & Shower Gel
BP: €11.90* / 1000 ml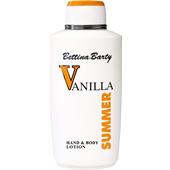 Bettina BartySummer Vanilla Hand & Body Lotion
BP: €11.90* / 1000 ml
5/5 AggregateRating
Summer Vanilla Women's fragrances by Bettina Barty
Women's scents such as the perfume Summer Vanillafrom the eponymous skincare range by Bettina Barty have caused a stir around the world. The range of products includes an eau de toilette spray, a bath & shower gel and a hand & body lotion. Those who have already smelled the aromatic perfumes of the individual products will know what an impact they have. The products can also be purchased as a gift set and given as a present.
Fragrant skincare range for everyday use
. With Summer Vanilla, Bettina Barty has created a skincare range which is convincing in many ways. The bath & shower gel ensures rapid and gentle removal of impurities The hand & body lotion is quickly absorbed and gives the skin a smooth and supple appearance. The eau de toilette spray means you can wear the intensive vanilla fragrance all day long.