Body oil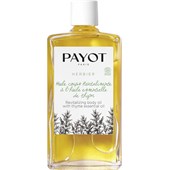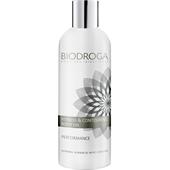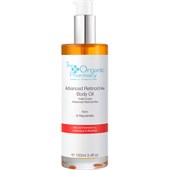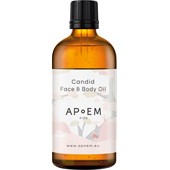 5/5 AggregateRating
Buy body oil online: Sensuously scented skincare for firm skin
Whether they are used for a gentle massage or to treat demanding skin, body oils are highly versatile and are also one of the oldest skincare products. A high-quality body oil with a sensual scent is a wonderful choice for skin that requires intensive care. To ensure that your skin stays healthy and gets exactly what it needs, body oil for dry skin is available in different scents and for different skin types. Discover firming body oils as a nourishing alternative to body lotions.
Body oils in different scents
Ideally, body oil should be used directly after bathing or showering, while the skin is still slightly damp. This makes the oil easier to spread and ensures that it is absorbed well. Body oil can also be added to the bath water directly, to create a nourishing bathing experience. Many body oils combine extracts from various natural ingredients:
Firming body oil with rose petals: Rose oil is known to improve the condition of connective tissue and create firmer skin. The scent of rose petals is also an effective remedy for inner turmoil and tension.
Soothing body oil with lavender flowers: Body oils with lavender also have a soothing effect on both your body and mind. The gentle scent relaxes the mind and helps with sleep.
Carrot body oil: Ideally, a body oil for dry skin should be enriched with carrot extract. This extract is perfect for challenging areas of skin thanks to its vitamin A content.
Almond body oil: A body oil containing almond oil is an excellent choice when it comes to intensive care for sensitive skin.
Jojoba body oil: A body oil for dry skin containing seeds from the jojoba plant absorbs into the skin quickly after application and reliable protects the skin against drying out. Furthermore, with its valuable provitamin A and vitamin E content, jojoba is particularly effective at protecting the skin and preventing inflammation.
Body oil with macadamia oil: When the skin is particularly stressed and sensitive, a body oil containing macadamia oil is a great choice. This type of oil provides the skin with plenty of moisture and has a regenerative effect.
Body oil with coconut oil: Body oils with coconut extract have a light texture and are absorbed quickly. Body oils for dry skin containing this ingredient are particularly popular in summer, since many products give the skin a subtle shimmer without making it look oily.
Tip: Even during pregnancy, regularly applying body oil can improve the elasticity of the skin and help to combat stretch marks. Lots of body oils for dry skin use high-quality jojoba oil.
Buy body oil at great prices – discover the wide selection of products at parfumdreams
At parfumdreams, you're sure to find the right body oil for you and your skin. Our exclusive product range contains nourishing body oils for dry skin as well as body oils for dry skin that also have a firming effect. Order your favourite product conveniently in our online shop or in the parfumdreams app when you are on the go.