Woman by Christina Aguilera
Woman by Christina Aguilera is a fragrance that gives women the confidence to reveal their
elega… Learn more
Woman Women's fragrances by Christina Aguilera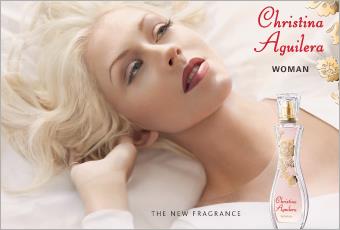 Woman by Christina Aguilera is a fragrance that gives women the confidence to reveal their elegance, femininity and inner strength. The perfume casts a spell over you, beginning with head note nuances of bergamot, lychee, pear and vibrant pink peppercorns. The heart notes of Woman captivate with a touch of violet leaves, honeysuckle, rose and magnolia, the symbol of fruitfulness and beauty. This fine fragrance blend is rounded off with golden amber, sandalwood and tonka beans, which together ensure that this pleasing, sensual aroma lingers for a long time. Just as attractive as the contents is the feminine flaçon itself, whose curves bring to mind a womanly silhouette. The little flowers on the front of the bottle perfectly encompass the nature of this exquisite fragrance creation.
Feminine fragrances by Christina Aguilera
For several years already, Christina Aguilera has been famous further afield than the stage, thanks to her creation of these sensual women's fragrances. Her first perfume won first place in the category of lifestyle women's fragrance. This sensational triumph is followed by further creations, which have matured with time, but which have remained true to their seductive image. The women's fragrances by Christina Aguilera stand for feminine grace, where each perfume embodies another nuance of sensuality. The singer chose the ingredients for Woman herself, selecting what she feels best reflects her femininity. The fragrance emphasises every women's positive attributes and is an ideal companion for every occasion.