Les Vanillees by Comptoir Sud Pacifique
The
Les Vanillees
perfume is a classic made by Comptoir Sud Pacifique. The women's fragrances…
Learn more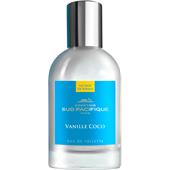 Comptoir Sud PacifiqueLes VanilleesLimited EditionEau de Toilette Spray Vanille Coco
BP: €141.00* / 100 ml
Les Vanillees Women's fragrances by Comptoir Sud Pacifique
The Les Vanillees perfume is a classic made by Comptoir Sud Pacifique. The women's fragrances by the renowned perfumery are characterised by a great deal of stylish elegance. With Les Vanillees, a fragrance has been created that drags your senses into an intoxicating experience full of harmony.
A sensual and aromatic fragrance
Anyone who has not yet experienced the various women's fragrances by Comptoir Sud Pacifique will be enthralled with this fragrance. The perfume is based on the essence of papaya. Its fruity character is rounded off by apricot, vanilla and sugar. The many different essences combine together perfectly to create a harmonious fragrance that will always be there for you as a true companion every day!