Daily Energy by Declaré
The male skincare Daily Energy from Declaré was specially developed for the
skincare needs of sen… Learn more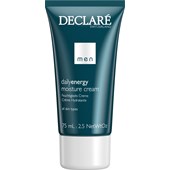 DeclaréDaily Energy Daily Energy Moisture Gel
€18.95
/ 75 ml
BP: €252.67* / 1000 ml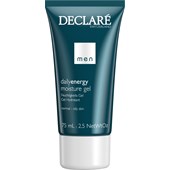 DeclaréDaily Energy Daily Energy Moisture Gel
€18.95
/ 75 ml
BP: €252.67* / 1000 ml
5/5 AggregateRating
Daily Energy Men's skin care by Declaré
The male skincare Daily Energy from Declaré was specially developed for the skincare needs of sensitive men's skin. Day Cream Sportiv, Cleansing Gel, Moisture Cream, Moisture Gel, Eau de Toilette Spray and Eye Fluid Roll-On act soothing and balancing. Daily Energy cosmetic quickly restores stressed and irritated skin back to normal. This male skincare is suitable for all skin types. The energising Daily Energy fragrance provides strength the whole day long thanks to its notes of zesty lemon, amber and musk. The cream provides the skin with just the right amount of minerals, vitamins and moisture, calms down irritation and protects cells. Declaré fills a special gap in the market with this skincare range: taking care of thicker, more robust and yet still sensitive male skin.
Men's skincare for sensitive skin
Declaré, the first specialised cosmetic range for sensitive skin in the world was developed in the late '70s. Since 1990 the sale and distribution of the Swiss cosmetics brand has been managed by Troll Cosmetics, a company based in Austria. The products, which completely forego any mention of a rich tradition as a family-run business and do without any kind of glamorous branding, are today sold in over forty countries in the world - in department stores, selected beauty salons and perfumeries. The manufacturer's main focus is on facial care. Organised according to skin problems and skin topics, the product portfolio contains various products addressing anti-ageing, gentle cleansing and rich moisturisation. The packaging design, too, concentrates on content rather than on unnecessary embellishments. Attention is drawn solely on the valuable ingredients contained in the quality products. Simple packaging coupled with some golden elements, the company logo and a product description allude to the precious ingredients contained therein.