Skin care by Declaré
Male skincare products from Declaré has been specially developed for men with sensitive skin. The co…
Learn more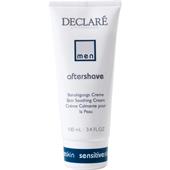 DeclaréSkin care Soothing Aftershave Cream
€20.95
/ 75 ml
BP: €279.33* / 1000 ml
5/5 AggregateRating
Skin care Men's skin care by Declaré
Male skincare products from Declaré has been specially developed for men with sensitive skin. The cosmetic products are ideal for the daily skincare regime and have a soothing, calming and balancing effect. As sensitive skin is more delicate and susceptive to irritation, Declaré does not use any alcohol in any of its skincare products. The visible signs of stressed skin, such as a lack of hydration, premature ageing and heightened sensitivity are countered with products in the skincare product range for men.
Sophisticated skincare range for men with sensitive skin
For men's daily shave the Swiss cosmetics manufacturer also offers specially developed care products. Shaving gels with anti-stress effect can be used in conjunction with hydro-vitalising aftershave balms .or with a calming aftershave cream to achieve perfect facial care. Facial skin stressed from shaving relaxes and is supplied with vital nutrients and plenty of moisture. Highly-effective day cream, cleansing and hydrating shower gels as well as deodorants with 24-hour action complete this cosmetics range for the contemporary man. The men's skincare range from Declaré was developed for men of all ages and may be used on both normal and sensitive skin.