EYE MAKE-UP by GIVENCHY
The French brand
Givenchy
is a large company, rich in tradition, which provides fragrances an…
Learn more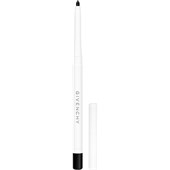 GIVENCHYEYE MAKE-UP Khôl Couture Waterproof
€17.95
/ 1 pcs.
BP: €17.95* / 1 pcs.
5/5 AggregateRating
EYE MAKE-UP Make-up by GIVENCHY
The French brand Givenchy is a large company, rich in tradition, which provides fragrances and make-up products, offering countless products for the complexion, nails and eyes. From incredibly long-lasting mascara to kohl pencils that offer precise application, the company offers plenty of products for radiant eyes which ladies have been using for decades to help them in their working life or at private occasions. As well as lasting a long time, eye make-up from Givenchy offers other extras such as water resistance to satisfy individual demands for a perfect look.
French quality products for a radiant pair of eyes
Whilst most women know Givenchy above all for its extensive range of feminine fragrances, our Shop offers lots of good value opportunities to make yourself feel good with a fine make-up look. We offer, for example, multi-coloured Eye Shadow in a colour co-ordinated Set, as well as Mascara with a high-quality brush which allows you to perfectly apply mascara and separate lashes from the first application to the last. As well as Givenchy's large selection of eye make-up and fragrances, our Shop offers other products from the world-famous brand which you can order here online at good prices.