Météorites Oxygen Care by GUERLAIN
The , that cares for the skin and brings new radiance: The skin has a lot to put up with day after d…
Learn more!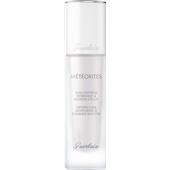 Météorites Oxygen Care Skin care by GUERLAIN
The
skin care range from Guerlain
, that cares for the skin and brings new radiance: The skin has a lot to put up with day after day. But it's not only external factors such as dry centrally-heated air, wind, rain, cold or sun radiation that give your skin a hard time. Stress, too, and a lack of care of the skin can damage your complexion. The skin experts at Guerlain know this too. And so was born the idea for Meteorites Oxygen Care – the clever care product that directly supplies the skin with precious oxygen.

The results are visible almost immediately. A clear and radiant complexion that glows from within. Even people who complain of having a grey-looking, slack skin can heave a sigh of relief thanks to this product. Even after a few days of use, you'll notice a fresher complexion and beautiful, rosy skin that feels noticeably softer and more supple. This product line also contains a polymer, which reflects light and so hides unflattering unevenness easily. The result is a wonderful, radiantly healthy-looking complexion. This comes with a pleasantly light violet scent.

Meteorites Oxygen Care is compatible with normal make-up and can therefore serve as a base for your usual cosmetics. For optimal pampering, apply the product morning and night to freshly-cleansed skin.