New Classic by Jaguar Classic
It is not just on the roads that Jaguar enjoys huge popularity. The fragrance creations by this reno…
Learn more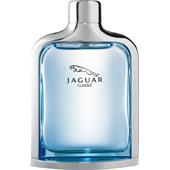 Jaguar ClassicNew Classic Eau de Toilette Spray
BP: €679.50* / 1000 ml
5/5 AggregateRating
New Classic Men's fragrances by Jaguar Classic
It is not just on the roads that Jaguar enjoys huge popularity. The fragrance creations by this renowned brand are also really sought after too. Just like its vehicles, Jaguar Classic stands for luxury, quality and style. The fragrance has revolutionised the world of men's fragrances and guarantees to provide sensual highlights with its aromatic smell.
Jaguar New Classic - the fragrance for a charming and stylish look
Just like all of the men's fragrances in the Jaguar Classic range, Jaguar New Classic is simple and discreet. This classic fragrance is characterised by tangy accents, enveloping your body in an attractive masculine scent. It is therefore the perfect addition for men who place value on the notion of etiquette and favour extravagance. The combination of bergamot, lavender and mandarin along with selected spices ensures an intoxicating overture. The attractive bouquet not only smells of lotus and orange blossom, but also of aniseed and ginger too. The composition is rounded off by the base note consisting of essences of musk and wood.