Lips Make-up by Korres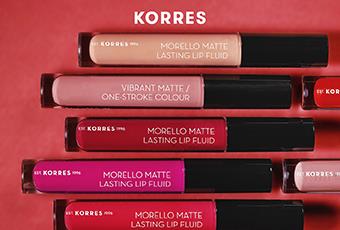 The Athens brand Korres has been offering high-quality make-up with a Greek note since 1996 and is also winning over an increasing number of women in this country with an enormous selection of contemporary cosmetics. A wide variety of cosmetic suggestions awaits you in the Lips Product Line, ranging from classic lipstick to shimmering gloss, to enable you to achieve an aesthetic and seductive mouth. Fine contour sticks and similar auxiliary aids to precisely demarcate your lips from the surrounding face are available, which allow you to perfect your make-up for every occasion.
Order make-up by Korres inexpensively on the Internet
Available in the handy format and secure packaging, lipsticks and other cosmetic items by Korres are the perfect companion and fit in every handbag. This also applies to other product lines of the Greek company, which not only highlight your lips but offer everything for the trend-conscious woman ranging from foundation to eye make-up and nail polish. Our online shop carries all the items of the latter and other brand manufacturers and invites you to snap up modern cosmetics, care products and high-quality accessoires inexpensively and with a short delivery time.