Eyes Make-up by Korres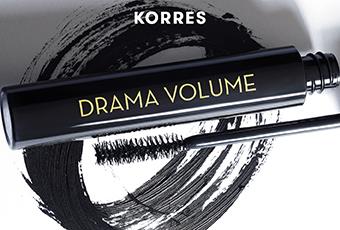 The Greek Korres cosmetic and make-up brand produces a large assortment of various products for the area around the eyes. This not only allows the expedient nurturing and indulging of the entire area, it also allows playful accents to be set skilfully over the lids, eyebrows or eyelashes. To this end, the Greek luxury brand offers various mascaras, eyeliners or eyebrow sticks for the eyebrows, for example. These allow eyes to be very targetedly emphasised, so that integrating them into and complementing the current look is child's play.
Radiantly beautiful eyes for a stunning style
The products' very diverse mode of action and optic allows them to be individually reconciled with the look and type of the woman. That is particularly important for eye make-up, as the eyes play an important role in the first impression and overall picture. They serve as an attention-getter and are also one of the most valuable and beautiful accessoires of any woman. That's why Korres also uses particularly qualitative top-class ingredients to underscore the stability and radiant power of the products. Under no circumstances should a well-sorted make-up cupboard ever be without them.