Nails by Korres
Well-groomed nails look enchanting but also feel exceedingly healthy as well. Women can rely on a la…
Learn more
5/5 AggregateRating
Nails Make-up by Korres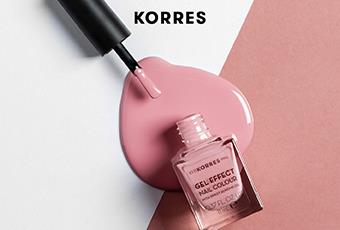 Well-groomed nails look enchanting but also feel exceedingly healthy as well. Women can rely on a large selection of various products for their nail care, the make-up products of the Greek Korres brand, for example. The latter primarily offers enchanting nail polishes that are guaranteed to make every hand a positive eye-catcher. The polishes have a qualitatively top-class composition, not just to ensure optical highlights in this way but also to deeply nurture the nails and cuticlesat the same time.
Beautiful colours in a nurturing coat
The high-quality composition pampers the fingernails and sets optical accents that can be perfectly reconciled with the current mood, the skin type or the current hair colour. The large Korres selection also allows the nail polish to be superbly combined with the current outfit. The make-up products for nails encompass, among other things, the Autumn, Nail Colour, High Shine Base Coat, ProVitamin B5 Top Coat and Myrrh Lack products. Just a small quantity is enough to ensure a deeply effective wellness treatment and a radiantly beautiful, intensive colour look on women's fingernails.