Face by Lavera
With Lavera make-up, you can ensure your face makes a big impression
naturally:
the product r…
Learn more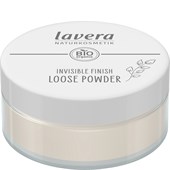 LaveraFace Invisible Finish Loose Powder
BP: €929.09* / 1 kg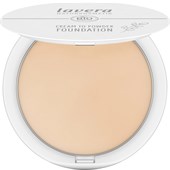 LaveraFace Cream To Powder Foundation
BP: €973.33* / 1 kg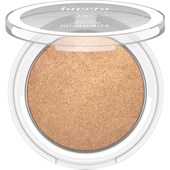 3,5/5 AggregateRating
Face Make-up by Lavera
With Lavera make-up, you can ensure your face makes a big impression naturally: the product range enables every kind of look - from subtle, through glamorous, to sexy - without using synthetic ingredients.
Make-up from nature - innovative solutions for sensitive skin
Thanks to bright natural colours, you can show off the natural beauty of your face naturally and enjoy the luxury of high-quality cosmetics without risk. With the Lavera make-up products, you pamper your skin with natural pigments, nourishing organic blossom butter made by the manufacturer itself, and a gentle, alluring fragrance from mixtures of selected essential oils. The natural concealer makes unattractive under-eye shadows disappear and soothes the delicate skin with natural liquorice root extract. You can apply the Natural Liquid Foundation or Tinted Moisturizing Cream as a base for your make-up to completely suit your taste and the occasion. The Compact Powder or Sun Glow Powder gives your complexion the perfect finish. With the Lavera Powder Rouge or Mineral Rouge Powder, you can create the natural freshness of a sunny spring day on your face.