Christmas sets by Marlies Möller
Marlies Möller - Christmas sets
Marlies Möller haircare products belong to some of the mo…
Learn more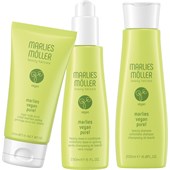 Marlies MöllerMarlies Vegan Pure! Gift Set
€39.95
/ 1 pcs.
BP: €39.95* / 1 pcs.
5/5 AggregateRating
Christmas sets Beauty Haircare by Marlies Möller
Marlies Möller - Christmas sets

Marlies Möller haircare products belong to some of the most celebrated product lines in Germany and beyond for perfectly cared for, radiant hair. The series of products from the hair stylist of the same name from Hamburg impresses both with its luxury ingredients and perfect styling results and with the products' elegant design. Aside from haircare products, the Marlies Möller range also includes special handmade brushes and combs. The whole line is ideal for the especially discerning woman who is prepared to invest in the health of her hair. And men aren't ignored either. Marlies Möller also offers products for men who place great importance on looking good.
Christmas sets from Marlies Möller - gifts that will make your hair happy
The Christmas sets from Marlies Möller comprise lovingly put together product collections, which would make the ideal gift for family and friends. Everybody will love the high-quality haircare products combined with brushes and handy bags. Of course you could always treat yourself to one of these wonderful Christmas sets. Whether you're already familiar with the products or want to try out something new, the various sets have something to offer every hair type. Choose between a moisture kick for dry hair, mild cleansing for damaged hair and extra volume for particularly fine hair. The exclusive Pashmisilk Set pampers with a pashmina silk complex and gives your hair extra vitality, particularly in winter. And with Men Unlimited, men's hair will be left with new energy and freshness Marlies Möller hair care products guarantee to deliver what they promise. The result: a glamourous mane of hair with the help of premium products.