At Night by Naomi Campbell
The extravagant
At Night fragrance
is one of the seductive
women's fragrances
made by …
Learn more
At Night Women's fragrances by Naomi Campbell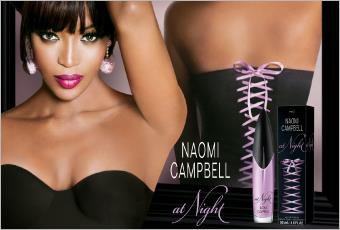 The extravagant At Night fragrance is one of the seductive women's fragrances made by the feisty British top model, Naomi Campbell. The fragrance is presented as a promise for both elegant as well as breathtaking appearances at night. Its opulence will seduce you with its woody and Oriental note.
Naomi Campbell At Night will beguile you
with its fruity top notes that transform into playful and floral feminine heart notes. The woody, amber-like base notes give this fragrance, suitable for use at night, a level of intensity that is reminiscent of the Oriental women's fragrances from One Thousand and One Nights. The slim design of the violet shimmering flaçon symbolises the elegant aura of this British model. The At Night fragrance is also available as an Eau de Toilette Spray in a 15 ml refill. The range is complemented with a Deodorant Spray. The British top model Naomi Campbell is a key part of the international world of women's fragrances. Since her brilliant debut in 1999, the beauty has released twelve luxurious fragrances onto the market. Her creations are characterised by a feisty sensuality, exuding the alluring personality of the super-slim top model along with a touch of elegance and glamour.