Roberto Cavalli by Roberto Cavalli
The Robert Cavalli range, name after the brand and the legendary designer of the same name, offers f…
Learn more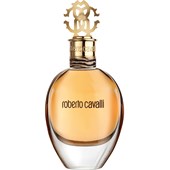 Roberto CavalliRoberto Cavalli Eau de Parfum Spray
€35.95
/ 30 ml
BP: €1,198.33* / 1000 ml
Roberto Cavalli Women's fragrances by Roberto Cavalli
The Robert Cavalli range, name after the brand and the legendary designer of the same name, offers feminine seduction and an interesting interplay of aromas, which makes this range completely unique in the world of women's fragrance. The fragrance range radiates in an elegant, golden shimmer that is captured in all products. As well as the Eau de Parfum Spray of the same name, this range also offers a Shower Gel and a Body Lotion. The range with the golden shimmer is perfect for women who want to be whisked away to another world by Roberto Cavalli, who foster high demands and who have no time for compromises.
The golden scent of a legend
The fragrance range was developed in 2012 when perfumer Louise Turner came onto the scene. The fragrance uses red pepper in its top notes, whilst orange blossoms are worked into the core. The base is composed of vanilla, tonka beans and benzoin. In this way, the fragrances combines only a delicate selection of different ingredients, which creates an extraordinary interplay, evoking a hint of nostalgia and surrounding the women in a scent that remains untouched in the perfume world.