After Sun by Shiseido
The right protection turns any exposure to the sun into real enjoyment. Your skin's well-being is th…
Learn more!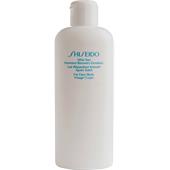 ShiseidoAfter SunAfter Sun Intensive Recovery Emulsion
BP: €17.97* / 100 ml
The right protection turns any exposure to the sun into real enjoyment. Your skin's well-being is the main focus of the exclusive Anti-Ageing Sun Care Line by Shiseido. The luxurious, extremely pleasant and highly effective textures combine reliable UV protection with optimal care. As pioneers in skin care research, Shiseido has developed completely innovative techniques, which completely outshine the usual sun care. While the UVA/UVB protection protects against direct and long-term damage due to sunlight, key active agents strengthen the skin from inside out, supply moisture and give it a glowing, healthy appearance.