Hot Products
the last 60 minutes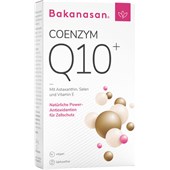 BakanasanMicro Nutrients Coenzyme Q 10 Plus
€12.74
/ 14 g
BP: €910.00* / 1000 g
Show all products
Did you know?
Caring products for healthy skin
The development of modern skin care products has taken great steps: creams and lotions for sensitive skin as well as special products to fight skin ageing enable you to maintain your skin's natural elasticity or cleanse the skin gently. The skin care products from Parfumdreams support the natural protective mechanisms – with anti-cellulite products for the body and vitamin-rich creams for the hands and feet. You will also find products for male grooming in the range, including sun care.
Keep your skin young with exclusive products from famous manufactures such as Lancaster, Revlon, Jean Paul Gaultier and many more. Our skin is vulnerable to environmental influences but also to signs of ageing. Caring products for the skin and body can counteract these influences and processes, and support the skin's natural protective mechanisms. Sensitive and dry skin in particular needs regular special care so that it doesn't crack. Nourished skin is proven to contribute to a person's well-being and shouldn't be neglected.