Accessories by Wella
Wella isn't just about excellent haircare products for men and women, but the matching accessories t…
Learn more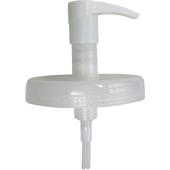 WellaAccessories Masks Pump Dispenser
€4.14
/ 1 pcs.
BP: €4.14* / 1 pcs.
5/5 AggregateRating
Accessories SP Accessoires by Wella
Wella isn't just about excellent haircare products for men and women, but the matching accessories too. In the 'SP Accessoires' range, you'll find different accessories which are perfectly tailored for fulfilling the requirements of stylists, hairdressers or individuals at home. Of course, the accessories can be used in combination with hair products and Wella's SP haircare range, and have the same high levels of quality expected from Wella's haircare products. Most of these products come in a classic white or black contrast, but coloured variations are also available.
Perfect accessories for fans of the top-quality Wella product palette
The colourful 1l dosing pump is adapted to suit different products, and has a colourful cap so that it can quickly and easily be distinguished from other individual haircare products. This colourful distinction particularly comes in handy in salons or swimming pools, where there are multiple haircare products on display. Capes and mixing boards can be used to protect your own utensils and clothes from dyes, products and hairs. The Haircare Trolley provides a fitting professional grand finale to the SP Accessoires assortment.