Yvresse by Yves Saint Laurent
The world of the Yves Saint Laurent brand is characterised by extraordinary passion, creativity and …
Learn more!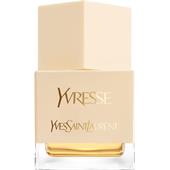 Yves Saint LaurentYvresseYvresseEau de Toilette Spray
BP: €99.94* / 100 ml
Yvresse Women's fragrances by Yves Saint Laurent
The world of the Yves Saint Laurent brand is characterised by extraordinary passion, creativity and fantasy. The company founder Yves Mathieu Saint Laurent, born in Algeria in 1936, was already considered as one of the major exceptional talents in the world of beauty at an early age. The company's success story continues to this day. A woman in black after a sleepless night. Devilishly beautiful but with the face of an angel. A woman in a sexy dress - at daybreak. Do you find that scandalous? She herself would call it freedom. Simply a true Yves Saint Laurent woman. That's precisely what Yvresse embodies!