Eyes by ARTDECO
Artdeco has made its name for a number of years as a manufacturer of
exclusive make-up products… Learn more!
Eyes Make-up by ARTDECO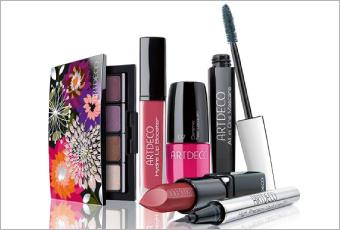 Artdeco has made its name for a number of years as a manufacturer of exclusive make-up products. The latest collection which was inspired, not least, by international fashion shows, includes a wide range of products from this premium manufacturer which can be used to give your eyes an even more radiant look. The new make-up range is primarily dedicated here to natural colour shades such as apricot, pink, rosewood, brown and beige, which can all be adapted to your own eye colour in a harmonious manner, making them appear attractively natural and fresh. In doing so, they primarily help you to highlight your own personal radiance and beauty in a discreet yet effective manner; this is all down to the fact that Artdeco wants its customers to be able to feel a sense of well-being in their own skin when using its make-up products.