Hair & Body by American Crew
Hair & Body
is a hair care line by American Crew. The hair cosmetic care products in the
H… Learn more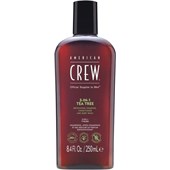 American CrewHair & Body 3 in 1 Tea Tree Shampoo, Conditioner & Body Wash
€4.30
/ 100 ml
BP: €43.00* / 1000 ml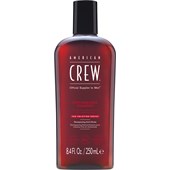 American CrewHair & Body Anti-Hair Loss Shampoo
€11.25
/ 250 ml
BP: €45.00* / 1000 ml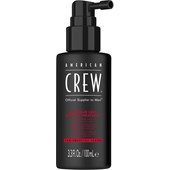 American CrewHair & Body Anti-Hair Loss Leave-in Treatment
€18.98
/ 100 ml
BP: €189.80* / 1000 ml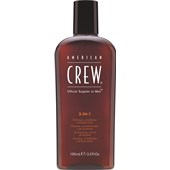 American CrewHair & Body 3 in 1 Conditioner & Body Shampoo
€4.30
/ 100 ml
BP: €43.00* / 1000 ml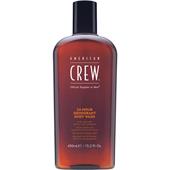 American CrewHair & Body 24h Deodorant Body Wash
€17.34
/ 450 ml
BP: €38.53* / 1000 ml
5/5 AggregateRating
Hair & Body Hair care by American Crew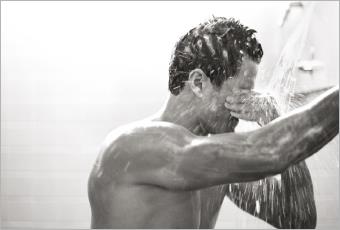 Hair & Body is a hair care line by American Crew. The hair cosmetic care products in the Hair & Body-Line include, among other things, shampoos, conditioners and deodorant body washes. All products in the care line were specifically developed for men. The goal of the care line is to open up the possibility of a perfect appearance to the modern, well-groomed man. The products of the American Crew brand radiate masculinity and self-confidence and, as a pleasant side effect, leave behind a beguiling fragrance, which cloaks the body of a man like an invisible veil.
N.B.: For real men only!
With Hair & Body you can benefit from a care line that is convincing due to absolute reliability. The care formulas were developed in consultation with hairdressers, chemists and doctors. The high-quality care substances and ingredients were specifically coordinated to satisfy the special needs of the male scalp. Animal experiments were dispensed with during the development of the care line: The American Crew products can thus be used with a completely clear conscience. Those impressed by the use of the hair care line can also acquire the products as a gift set!