Repair by Wella
If your hair is broken, don't let it stay that way. With the SP Care range from the house of Wella, …
Learn more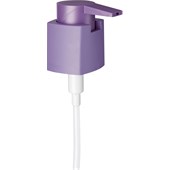 WellaRepair Repair Shampoo 1L Pump Dispenser
€5.94
/ 1 pcs.
BP: €5.94* / 1 pcs.
5/5 AggregateRating
Repair SP Care by Wella
If your hair is broken, don't let it stay that way. With the SP Care range from the house of Wella, you can give your hair the necessary care urgently needed to completely regenerate roots and hair fibres. The multi-faceted Repair range has more than half a dozen different products on offer, starting with classic shampoo, via a mask and emulsion, to conditioners and a highly-dosed infusion. At the same time, we can offer you a dosing pump to go with bottled products, to make it easier to apply doses from larger bottles. This can also be used with other 1l products, after washing it out beforehand.
Expert haircare products
The SP Care hair products by Wella stand out from the rest with their specially developed formula, and will bring worn-out and broken hair back to life. A large number of the products are suited to daily care, and individual Repair products can also be freely combined with each other. After a few weeks, your hair will not only feel healthier, but its natural beauty will have returned. To make sure the regimen really works, the products should be used over a long period of time.