Smoothen by Wella
The Smoothing care range by Wella SP Care provides
gentle suppleness and gentle, smoothing cleans… Learn more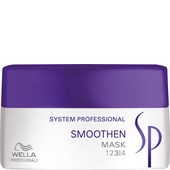 WellaSmoothen Smoothen Mask
€20.23
/ 200 ml
BP: €101.15* / 1000 ml
4,5/5 AggregateRating
Smoothen SP Care by Wella
The Smoothing care range by Wella SP Care provides gentle suppleness and gentle, smoothing cleansing for men and women alike. The ingredients smooth the entire hair structure and also have a controlling effect through which bristly hair and unpleasant frizziness can be prevented. Due to the smoothed hair, its ability to be combed is also naturally improved, from which future styling will, in turn, benefit. The Smoothing line tames unmanageable hair and embeds conditioning ingredients into hair which condition hair thoroughly from the fibres to the roots.
Hair cosmetics for smooth and magical hair
The Wella SP Care Smoothing line comes in clear white containers with contrasting purple caps. The conditioning hair cosmetics line includes, among others, a shampoo and matching conditioner. Both products can be used for daily maintenance in order to achieve medium to long term smooth hair. These products are complemented by an Infusion and Mask and can both be used at intervals. The highly dosed ingredients in the Infusion offer rapid relief for windswept hair and provide a sort of "overnight" smooth and healthy effect on hair.