Complexion by Ayer
The Ayer quality brand offers numerous different care and make-up products, which ensure an
even,… Learn more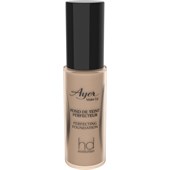 AyerComplexion HD Evolution Perfecting Foundation
€32.95
/ 30 ml
BP: €1,098.33* / 1000 ml
Complexion Make-up by Ayer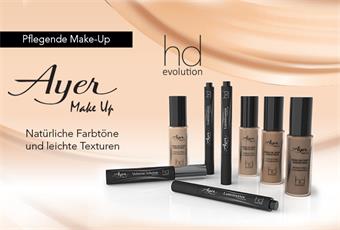 The Ayer quality brand offers numerous different care and make-up products, which ensure an even, smooth, flawless and healthy skin. A person's skin is especially important, as it constitutes the foundation of aesthetic beauty. A healthy skin is immediately recognisable from its flawless complexion, a pleasant colour and the regularity that creates a type of symmetry in the entire face. Care products should be used to ensure the long-lasting preservation of this beauty. The tolerable Ayer make-up products recommend themselves to achieve a pleasant complexion at short notice.
For demanding women and with nurturing effect
The Complexion Line includes various nurturing make-up products that have both a cosmetic and a nurturing effect. A creamy foundation hydrates the skin and covers the majority of the irregularities, the skin can then be carefully prepared with powder and other make-up later on. Ayer also offers day cream and lipo make-up, to give women around the globe a wide-ranging product selection and thus ensure that individual needs can also be extensively and consistently satisfied - just what one expects of quality products!