Ayer Base by Ayer
An
effective make-up
requires the appropriate cosmetics to nurture the sensitive facial skin.…
Learn more
5/5 AggregateRating
Ayer Base Skin care by Ayer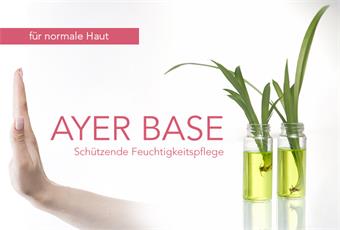 An effective make-up requires the appropriate cosmetics to nurture the sensitive facial skin.
Ayer Base by Ayer offers you a complete care series
, including Day Cream, Night Cream, Eye Cream and cleansing gel, to protect your skin against environmental influences and soothingly nurture it.The Ayer Base Mask provides stressed skin with new freshness and vigour, by supplying it with moisture that is stored in the tissue. The Face Wash in the same series is especially soothing as it is alcohol-free and is perfect for gently preparing the facial skin for further care. The skin around the eyes is particularly sensitive and needs special cosmetics to prevent wrinkles and irritations. The Ayer Eye Cream is particularly good for this, as it supplies the sensitive skin area with selected vitamin E via selected plant extracts. The products in this care series are optimally coordinated with each other and to meet the skin's needs and offers you everything you need to give your skin freshness, sparkling vitality and vigour.