Hot Rollers by BaByliss Pro
Hot Rollers from BaByliss are the
perfect technology
for beautiful hair! Styling yo…
Learn more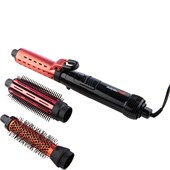 BaByliss ProHot Rollers Big Curls Hot Airstyler
BP: €34.26* / 1 pcs.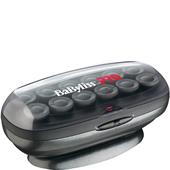 BaByliss ProHot Rollers Jumbo hot rollers 12
BP: €71.26* / 1 pcs.
5/5 AggregateRating
Hot Rollers Technical equipment by BaByliss Pro
Hot Rollers from BaByliss are the perfect technology for beautiful hair! Styling your hair at home was never as easy as it is today. The rollers heat up in the shortest of times and then the hair can be wrapped around them. In only 15-20 minutes, your hair will be beautifully curly. Depending on the model, the rollers have either a flocked surface or have a high-quality ceramic surface. This means that the hair is protected and falls in delightfully soft curls. That's the type of hair care that all women desire. Thanks to the different sizes of roller, you can style your hair successfully with the flick of the wrist. Simply wind the hair round the hot roller and your style will be perfect. You can decide on the volume and tightness of the curl you want to create by using the various roller sizes.

Haircare for the fashion-conscious women.

While you are busy taking care of other things at home, the BaByliss rollers will take care of the styling for you. A system that couldn't be easier. Simply heat the rollers, wrap the hair onto them and wait. A digital signal will let you know when the rollers are fully heated and ready to use. Thanks to intelligent technology, each roller displays the temperature with a heat display spot. The clips supplied hold every strand of hair in place on the roller. Just forget that appointment at the hairdresser. Haircare for at home and away, since the BaByliss roller set will fit into every travel bag.