Dry shampoo by Batiste
The daily washing of longer hair in particular costs time and effort. Not only must the hair be wash…
Learn more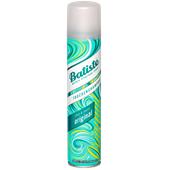 BatisteDry shampoo Original - Clean & Classic
BP: €21.45* / 1000 ml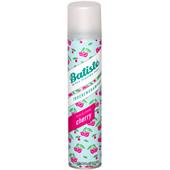 BatisteDry shampoo Cherry - Fruity & Cheeky
BP: €21.45* / 1000 ml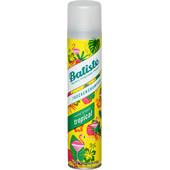 BatisteDry shampoo Tropical - Coconut & Exotic
BP: €20.40* / 1000 ml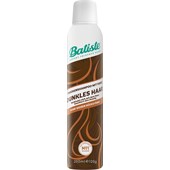 BatisteDry shampoo Dark – for dark brown hair
BP: €18.95* / 1000 ml
5/5 AggregateRating
Dry shampoo Hair care by Batiste
The daily washing of longer hair in particular costs time and effort. Not only must the hair be washed and rinsed, but also dried and styled. This costs much more than just a few minutes, especially in the case of thicker hair. When it has to be quick or when the hair needs a quick pepping up in the evening, the dry shampoo from Batiste is the perfect haircare product. It is very easy to use and the results are amazing. The hair looks freshly washed and can be combed and styled immediately after applying the dry shampoo. Blow-drying is not required.
The practical haircare system from Batiste
is available in various fragrances. You will receive a spray, which you can apply to the individual areas of the hair just as you would a hairspray. Simply allow the Batiste dry shampoo to work its magic for a few moments. It may appear on darker hair in particular as if the dry shampoo sits on the hair like a powdery film. This film can, however, be brushed out easily. Your hair will feel fresh and will smell like it has just been washed, and you can style it again the way you want. If your hair quickly becomes greasy after washing, daily washing can often be essential. But especially in the mornings when you're in a hurry because you need to get to work or because you have an appointment, washing your hair can be an enormous bother. With the dry shampoo by Batiste, you'll have solved the problem since, thanks to this dry shampoo, you'll be able to style your hair exactly as if you've just washed it.