Omnia Coral by Bvlgari
The Omnia Coral range by Bvlgari combines the
radiant and warming essences of summer
in a per…
Learn more
Omnia Coral Women's fragrances by Bvlgari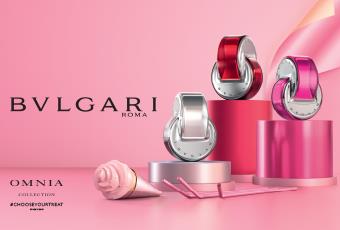 The Omnia Coral range by Bvlgari combines the radiant and warming essences of summer in a perfume that also delights with its immensely imaginative flaçon in addition to its fragrance. The flaçon is made up of 2 halves of a ring that are inserted into each other. The result is an extraordinary shape and an exciting contrast between red and silver that gives the Bvlgari perfume that special something that distinguishes the luxury brand in the international arena. The women's fragrances in the Omnia Coral range are usefully complemented and expanded with matching additional products, for example shower gels and body lotions.
A touch of summer in a modern flaçon
The fragrance of the range was developed in 2012, the perfumer for this was the Italian Alberto Morillas. Omnia Coral uses a warm base of cedar and musk which is complemented in the heart note with water lily and fruity pomegranate. The top note of the summery creation contains hibiscus, goji berries and bergamot and therefore ensures a fruity and fresh start. The fragrance lasts for an exceptionally long time and can also be used in winter to evoke feelings of summer. The unusual flaçon was designed by Fabrice Legros.