Moschino perfume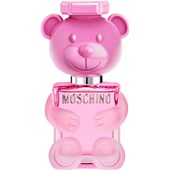 MoschinoToy 2 Bubble GumBubble GumEau de Toilette Spray
€49.95
/ 50 ml
BP: €999.00* / 1000 ml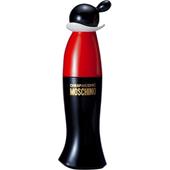 MoschinoCheap & Chic Eau de Toilette Spray
€29.95
/ 30 ml
BP: €998.33* / 1000 ml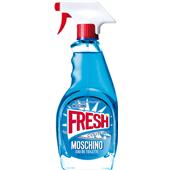 MoschinoFresh Couture Eau de Toilette Spray
€35.95
/ 30 ml
BP: €1,198.33* / 1000 ml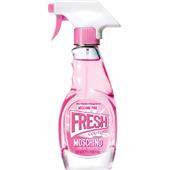 MoschinoPink Fresh Couture Eau de Toilette Spray
€35.95
/ 30 ml
BP: €1,198.33* / 1000 ml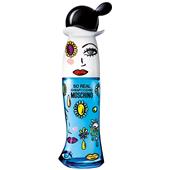 MoschinoCheap & ChicSo RealEau de Toilette Spray
€29.95
/ 30 ml
BP: €998.33* / 1000 ml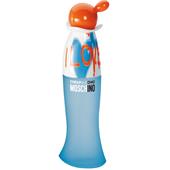 MoschinoI love Love Eau de Toilette Spray
€30.95
/ 30 ml
BP: €1,031.67* / 1000 ml
5/5 AggregateRating
Moschino perfume: provocative, cheeky, unconventional
Moschino perfumes are simply different: Provocative and unconventional but always high-quality and extravagant. Moschino's style is unique and has been so since 1983. Franco Moschino makes clear statements as a designer in the fashion industry. As he did in 1990 with the bold message "Stop the Fashion System!", which was used not only in advertising campaigns but also printed on T-shirts.
Moschino is cheeky, colourful, unusual and always individual. This is also how the perfumes of the luxury brand develop on the skin. Anyone who wears a Moschino fragrance, exudes a very special charm. Romantic and sensual yet fresh and invigorating at the same time. At parfumdreams you will also find the right Moschino perfume for you at great prices.
The Moschino perfume for every occasion
The luxury label not only creates high-quality Moschino fragrances for women. The popular gender-neutral perfume makes every person special. Citrus, floral and woody elements blend with warm accents and exude pure joie de vivre – the trademark of the founder Franco Moschino.
The colourful and exclusive bottles are striking – like the fragrance creations of the designer. Moschino takes the liberty of shaking up the luxury scene loudly and with a good dose of humour. You can't miss the garish bottles in the shape of a household cleaner, for example.
Moschino doesn't just do "expensive". The luxury brand captivates us with fruity ingredients at a great price with its "Cheap and Chic" collection. But men too get their money's worth with an exclusive Moschino fragrance. Spicy and floral, the men's fragrances by Moschino play with notions of modern masculinity, standing out from the crowd provocatively.
Moschino fragrances are unique – just like the bottles
A Moschino perfume is something special. The striking bottles themselves attract curious glances. The popular Moschino fragrance Fresh Couture is zesty, fresh and feminine at the same time. This Moschino perfume stands out on the shelf in the bottle of a household cleaner. If you would like something a little more fragrant, we can recommend Toy 2 by Moschino, an oriental fragrance with delicate rose aromas and citrus nuances. The little teddy bear bottle is an eye-catcher.
Shop Moschino perfume online at great prices
A trendy Moschino perfume will definitely be an eye-catcher in your fragrance collection. The individual components explode on the skin and accentuate your personality in a quite individual way. Moschino fragrances are for everyone who takes life as it comes and would like to bring a little Italian joie de vivre home with them. At parfumdreams you'll find a wide selection of Moschino fragrances at great prices.