Eros by Versace
With Eros, Versace introduces a very masculine, yet also sensual and addictive fragrance. The mixtur…
Learn more!
Eros Men's fragrances by Versace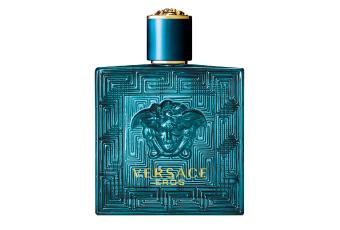 With Eros, Versace introduces a very masculine, yet also sensual and addictive fragrance. The mixture is daring and inspired by strength and masculinity. The flacon is also captivating with a strong and dominating turquoise colour. It clearly comes from the Mediterranean region and the lifestyle of Greek and Roman art.

The strength of Eros is emphasised by Medusa, which can be seen on the middle of the flacons. Versace Eros is engraved with gold and dominates the already attractive flacon. All in all, Eros embodies masculine dominance and strength.