Déclaration d'un Soir by Cartier
Cartier is primarily known as a luxury label for jewellery and yet also supplies women's and men's f…
Learn more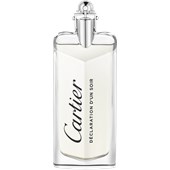 CartierDéclaration d'un Soir Eau de Toilette Spray
BP: €909.50* / 1000 ml
Déclaration d'un Soir Men's fragrances by Cartier
Cartier is primarily known as a luxury label for jewellery and yet also supplies women's and men's fragrances with high-end notes and refined flair. If you're looking for a striking masculine perfume for life's special occasions, then Déclaration D'un Soir is the right choice for you. Supplied in striking flaçons, this perfume is not only supplied for men in the form of an eau de toilette spray; this special composition from the house of Cartier can also be enjoyed in the shower or after a shave.
Men's fragrances by Cartier - luxury at an attractive price
An aromatic character supported by flowery notes dominates in Déclaration D'un Soir due to essences of black pepper, rose and cardamom. As a result, this perfume appeals to younger men in particular who like to help themselves to a slice of luxury on their daily trip to the bathroom. As well as Déclaration D'un Soir, other men's fragrances by the French label are just as inviting and await you in our online shop. For a big name, you'll pay an attractive price that we guarantee for all your brand items from exclusive cosmetics through to skincare products.