GENTLEMEN ONLY by GIVENCHY
The Gentlemen Only range from the Givenchy brand was developed in 2013 and originates from the perfu…
Learn more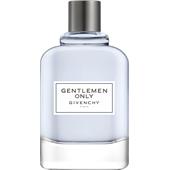 GIVENCHYGENTLEMEN ONLY Eau de Toilette Spray
BP: €799.50* / 1000 ml
5/5 AggregateRating
GENTLEMEN ONLY Men's fragrances by GIVENCHY
The Gentlemen Only range from the Givenchy brand was developed in 2013 and originates from the perfume of the same name. The fragrance is, as the name would suggest, specially aimed at men and manifests itself in a discreet, stylish and very classic way. The elegant flaçon, which comes in a shallow blue with black cap, sets up the prelude to this range. The Gentlemen Only range is complemented by products such as After Shave Lotion, Deo Spray and Gift Sets which combine several of these items. Of course, all items come with the pleasant scent of the perfume.
For 21st-century gentlemen
Men's fragrances from Givenchy are known for their light base and promising top notes. The same applies to this fragrance, with top notes of birch leaf, nutmeg, pink pepper and fresh, ground mandarin joining forces. The heart of the fragrance is made of vetiver root, cedar and patchouli, whilst the core is a simple composition of aromatic frankincense. The result is a range with a timeless fragrance that, thanks to its unmistakable notes, is perfect for men who like looking for special fragrances rounded off in a distinctive manner.