Miss Gabriela by Gabriela Sabatini
The very feminine ""Miss Gabriela"" Fragrance Line, named after the founder of the brand, Gabriela S…
Learn more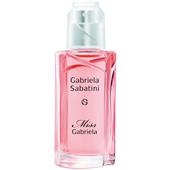 Gabriela SabatiniMiss Gabriela Eau de Toilette Spray
BP: €59.75* / 100 ml
Miss Gabriela Women's fragrances by Gabriela Sabatini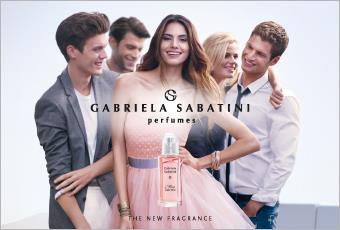 The very feminine ""Miss Gabriela"" Fragrance Line, named after the founder of the brand, Gabriela Sabatini, knows how to score at very first sight. A bright pink flacon accommodates the fine eau de toilette spray, which was included in the brand assortment as a new release in 2013. The ingredients are deliberately sparingly selected, but the dosage is all the more intensive. Raspberries and pink pepper in the top note of the fragrance have an inviting and friendly effect, whereas peony, heliotrope and jasmine support the floral effect. As is customary for women's fragrances, the base note relies on cedar and warm amber.
A feminine fragrance with character
The Miss Gabriela Fragrance Line impresses with abundant femininity and relaxing accords. After ending her professional career, the former professional tennis player created a range of various women's fragrances that were intended to suit women all over the globe and at any time of day. Another reason why the perfume by Gabriela Sabatini can be used on so many occasions but never becomes boring. A skilful composition of comparatively few ingredients generates an exciting effect that makes the perfume absolutely perfect for all four seasons of the year.